New Years special - Northern Lights & wildlife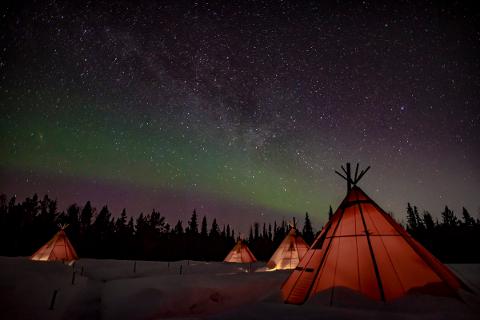 Duration: 6 Days
Location: Luleå
Celebrate New Years under the Northern Lights! This is ultimate photography and winter adventure in Swedish Lapland. Watch moose, reindeer and the fantastic Aurora borealis. Go dog sledding and hang out with cool locals.
Why are we doing this trip?
We just have to do this! What better place to spend New Years Eve than at our good friend Lennart's tented camp far out in wilderness?
The idea with this tour is that we want you to experience a more real side of Lapland, in small groups with local guides, away from the main touristy areas.
We decided that on our tours there will be no tourist attractions like icehotels or Santa theme parks. Busloads of tourists end up going there each day already.
Our guides love being outdoors in pure wilderness, in remote areas away from everyday life. They love playing around in deep snow and to watch for moose and to just breathe the crisp air. They can't wait to venture out with hot chocolate to onto a frozen lake and watch the Northern Lights dance in the sky above.
Be prepared to make friends with the guides, the other guests as well as with the locals.
Celebrate New Years Eve under the Northern Lights
Photograph Reindeer, Moose and the spectacular Aurora Borealis
Go dog sledding across frozen lakes and snowy forests
Stay four nights at our friends' guesthouses and one night in a tented camp
Local guides and small groups for more genuine experiences
This trip is for travelers who are seeking for a fun and rewarding adventure in the Winter wonderland that is Lapland. Be prepared to make new freinds with the guides as well as with the locals. On this trip you won't just take photos of sights and attractions, but you will be part of the experience and bring home some of the Lapland lifestyle.
You will not only have the chance to see Moose, Reindeer and the Aurora, but you will also snowshoe in snow clad forests, meet with interesting locals, hang out with Reindeer, stay at a friendly guesthouse and bring home memories for life.
Will we see the Aurora Borealis? Very likely. Swedish Lapland offer more stable weather than other popular winter destinations which means we have the best conditions. Imagine yourself standing in deep snow under a green explosion of Northern Lights at New Years Eve!
This part of Lapland is home to the largest Moose in Europe. The Moose here are not hunted and therefore less cautious of humans. During winter, Moose gather in the valleys in search for food and during January and February it is not uncommon to see as many as 20-40 Moose in one day. On this trip you have the chance to get close to and photograph some of these majestic animals in the wild.
Known as Lapland, the native name of this area is actually Sápmi. The indigenous Samis inhabit the region of Sápmi, which today encompasses parts of northern Sweden, Norway, Finland and the Kola peninsula of Russia. During this tour you will meet with Samis to learn about and get an understanding for their interesting culture and traditions.
Program
Day 1 - Arrival & Northern Lights excursion
Fly via Stockholm to Luleå in Swedish Lapland.

Meet and greet with your guide at the airport for a two hours drive to our guesthouse in Jokkmokk, a small northern outpost town which will act as a base for excursions into some of the wildest parts of Lapland. It's surrounding area boasts amazing landscapes, ranging from mountains and frozen lakes to ancient boreal forests and streaming rivers.

Enjoy a welcome dinner this evening with your tour guide and fellow travelers.
Are you a keen photographer and aiming to capture the Northern Lights on this trip? Not sure about the camera settings? After dinner we will meet up with a local photographer who will teach us how to succeed with Northern Lights photography. This will increase your chances of going home with beautiful aurora photos. While this crash course will focus on SLR cameras with tripods, there will also be some instructions on how you can capture the aurora with smaller pocket cameras and even smartphones.

As night falls, we go outside to await the spectacle of the aurora borealis, the legendary northern lights. Each evening holds an opportunity to witness the phenomenon.

There is virtually no light pollution at all here. As long as there are no clouds the chance to see the aurora is very high.

Often, the aurora begins as a white glow low in the sky that slowly starts to shift and undulate. Wavy patterns evolve, colors appear and change, until the lights look like shimmering curtains of green, yellow or red. Of course, since the lights are a natural phenomenon, we are never guaranteed to see them, but Northern Sweden has some of the most frequent and intense auroral activity on the planet...meaning our odds are very good!

We will make sure you are well equipped so that you will stay warm during the entire week. You will be offered to pre-book winter clothing that we pick up and try out on this first day. During the coldest period in December and January temperatures may drop as low as -30℃ or even -40℃, less later in the season, but we will be well equipped so no need to worry.

Night at Jokkmokk guesthouse.

Day 2 - Moose & reindeer watching

On this day we are planning to drive through a nearby valley which is known to host some of Europe´s largest Moose, but also big amounts of reindeer. This provides a great opportunity to view and photograph these majestic animals.

Lunch out in the snow watching across lake Saggat.

If the weather is fine we spend the whole afternoon out in the snowy valley before we return to our guesthouse in Jokkmokk for a well deserved dinner and hot drinks.

Night at Jokkmokk guesthouse.

Day 3 - Dog sledding & Reindeer meeting
Big adventure day! On this day we are all going dog sledding with our friends Matti and Stina. They live and train their dogs all year around, and they will take across the frozen landscape during a couple of hours hearing only the breathing of the huskies. This is a true close-to-nature experience. Outdoor lunch by a camp fire.

In the afternoon we will meet up with our good friend Anna. We have asked Anna for an evening meal in her lávvu (traditional tent). With a native perspective Anna has a lot to tell us. In this way we get the chance to learn more about the Sami culture and the life as a reindeer herder at first hand. We sit on skins on the floor and try some traditional Sami dishes that are prepared over the camp fire.

Compared to the hectic life in cities, it is like as if Anna lives in another world. Her husband is a reindeer herder and rarely at home while Anna is at home taking care of their children as well as some of their beloved reindeer. We will visit these reindeer. They are wild animals but if you sit still they may come as close as eating from your hand.

This will be a long day, but if you like you may want to go out and watch for Northern Lights. There is a lake within walking distance from our guesthouse that offer good views. Fill up your thermos and bring some snacks to stay warm and happy.

Night at Jokkmokk guesthouse.
Day 4 - New Years Eve with night in tents
We leave our guesthouse in Jokkmokk and travel for a couple of hours to visit another good friend of ours. Lennart is Sami and we are very happy that he lets us celebrate New Years eve at his tented camp!

This will hopefully be the highlight of the trip. Imagine yourself standing in deep snow under the Northen Lights and then go to bed in a tent. This will hopefully be the highlight of the trip. Imagine yourself standing in deep snow under the Northen Lights and then go to bed in a tent. Lennarts camp was recently featured by National Geographic's list 21 places to stay if you care about the planet.

We end this year in the best of ways with a forest hike in the surroundings. You will have the chance to try either snow shoeing or cross country skiing.

We enjoy a festive New Year's dinner by the fire place in a small wooden cabin. We take turns to look for the Aurora, and then go out to watch the Northern Lights that will hopefully be dancing in the sky above us. The illuminated tents will provide an ideal foreground for night sky photography.

As we have entered 2018 we will sleep comfortably in the tents. The tents actually have proper beds and a heater, so this is more like a hotel room than a tent. You will be surprised how comfortable a tent can be. Toilet? Don't worry, Lennart has set up some toilet booths near the tents. All in all we will have five tents to share so there will be plenty of room for all of us.

Day 5 - Visit Britta and see the Tree hotel
We wake up in the tents and gather for a long breakfast in the cabin. We say our good bye's to Lennart before we drive a couple of hours to reach the village of Harads. Here lives another friend of ours, Britta. She runs a lovely little guesthouse where we will spend the night. Harads is just a small village and a few years ago it saw few visitors, until some years ago when Britta decided to build a hotel up in the trees! This Tree Hotel is now world famous for its futuristic architecture and while we have chosen not to spend the night at the Tree Hotel, we will certainly go and have a look around.

We enjoy our last dinner together at Britta's place and then go out to watch for Northern Lights in the evening.

Night at Britta's guesthouse.
Day 6 - Unesco World Heritage Gammelstad, then departure
Time has come to leave Lapland. If you have an early flight we will take you straight to Luleå airport. If your flight is later in the day we can take you into Luleå town for you to explore on your own. We can highly recommend you to see the Unesco World Heritage Gammelstad. The Gammelstad site is the world's most extensive and best preserved church town, with more than 400 church cottages gathered around a medieval stone church. This is really pretty. It is also the best place to look for handicraft items and local souvenirs to bring home.

Catch a taxi to the airport or to the train station in time for your flight or train.

Or stay some extra days! You can always extend the tour with one or two nights in Luleå, at your own expense, but we are happy to help you out.
What's included?
Tour leader

All activities
5 nights accommodation
Full board with all meals included
Round-trip transportation from Luleå airport or train station
Add-ons

Winter clothing can be rented at 1500 SEK for the entire trip
Single room supplement 995 SEK If you travel as a single you may have to share tent with another person of the same gender.
Alcoholic beverages are paid at each restaurant


Date & time
This trip has one departure: 28 December 2017 - 2 January 2018.
Meet your guide at Luleå airport at 5:30pm or at Luleå train station at 4:30pm. If you arrive earlier I recommend you to take a taxi to Luleå town and we can meet you there.

On departure day you can take a flight or train at any time of the day. More information in the 'how to get here' section below.

Accommodation
Three nights in double/twin rooms at Jokkmokk guesthouse. The rooms are basic but comfortable and clean, all with shared bathroom in the corridor. This homely guesthouse was built as a home for the local hunt master nearly 100 years ago. It is located in Jokkmokk, a small town with a strong Sami influence. Jokkmokk is situated above the Arctic circle and away from the main tourist areas, which makes this guesthouse the perfect base for exploring Lapland. We want you to know that Jokkmokk guesthouse is a budget accommodation and we have chosen this accommodation to help us keep the total costs down and instead focus on the activities.
One night at a tented camp near Gällivare. The tents are more like hotel rooms with proper beds and a heater. Each tent have two beds each, and two extra beds can be fitted if you travel as a family. If you travel as a single you may have to share tent with another person of the same gender. Bathrooms are shared and outside in booths.
One night at Britta's guesthouse in Harads. Single, twin and double rooms availble, all with shared bathroom in the corridor.
If you are looking for a longer holiday you can extend this tour by adding extra nights in Luleå where we end the tour.

For who?
Recommended minimum age is 8 years. Participants should be able to walk in uneven terrain without difficulties. Walking level is easy/medium.

Small groups for a more genuine experience

Maximum 7 participants with one guide. With two guides we may take up to 14 participants.
Location & how to get here

Meet your guide at Luleå airport, at Luleå train station or in Luleå town, you decide!
BY AIR: Fly from Stockholm to Luleå Airport (LLA). We meet you at the airport at 3pm.

TRAIN: There are two different night trains departing from Stockholm arriving in Luleå on the next day. An overnight train may sound like a long way to travel (13 hours), but it is a great trip and part of any great adventure. You can also go by train in one direction and fly in the other direction, no problems. Note that the time table and tickets for these trains are released 3 months prior to departure. After that you will be able to buy your train/bus tickets at www.sj.se. Let me know if you need any help.
Train rates depend on which comfort you choose, i.e. budget reclining seat, standard bed in shared 6-bed room, or comfortable bed in a private room for 1-3 persons. The rate for a standard bed in a shared 6-bed room is about 2500 SEK for a two-way ticket from Stockholm to Luleå with return.

Bookings and cancellations
Our booking procedure is simple. Just pick a date, fill in the form and off you go. You pay 10% now and the rest 45 days before you arrive.
We manually review your booking to make sure that we still have availability. If everything is okay we will send you a confirmation by email within 24 hours. Until your booking is confirmed no payment or charges will be applied, and credit card details are held for security purposes only.

You may cancel your tour at no cost up to 7 days from the time of booking. We will provide a 100% refund.
Cancellations between 8 days from the time of booking and 46 days before arrival will be charged at 25% of the booking's total amount.
Cancellations between 45 days and 15 days before arrival will be charged at 75% of the booking's total amount.
Cancellations within 14 days of arrival will be charged at 100% of the booking's total amount.